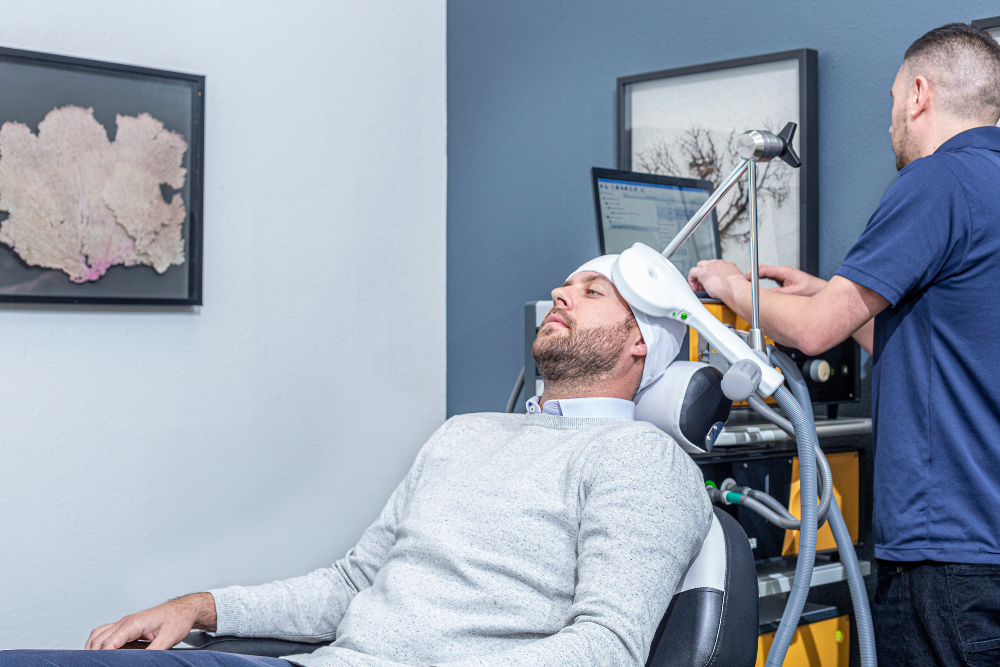 Now In-Network with TRICARE Insurance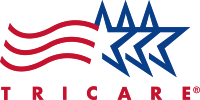 We utilize the latest FDA-Approved TMS Therapy to treat Service Members, Retirees, and their Families.
Call (949) 370-0771 Today!
The treatment process at our TMS Center consists of (3) primary components:
Progress Audits (Re-Testing; RE-Mapping; Prescription Modification – if indicated).
Initial Assessment, EEG, Brain Mapping, and TMS Prescription
In the initial visit, our patients undergo a comprehensive cohort of tests, surveys, and scales over the course of approximately 2-hours' time.
These tests are conducted through smart computer programs that produce a tremendous amount of diagnostic information, which is aggregated, organized, and utilized by our psychiatrist in the prescription process.
EEG & "Brain Mapping"
After the tests are administered, the patient undergoes an EEG (electroencephalogram), which is a brain scan that indicates electrical activity, which we use for brain mapping and diagnostics – it enables us to be as precise as possible in the TMS prescription.
Following the EEG, we 'map' the brain using the results of the EEG, along with measurements and features of the patient's skull.
The patient wears a very thin nylon/rubber cap, very similar to a swimming cap, which is marked up to indicate the areas of the brain that will be treated. The patient will wear the same cap, fitted the same way for each therapy session.
Personalized TMS Prescriptions/Protocols
From all the above data, our psychiatrist creates a customized, specific treatment protocol or 'prescription', in terms of the TMS machine settings (e.g., Power; Frequency; Amplitude; Number of pulses/sec.; etc.), which prescription we will follow for the course of the treatment sessions, subject to modification if indicated.
Prescribing the most effective TMS treatment protocol has a high degree of complexity that requires a highly skilled and experienced physician. There is no 'one size fits all' prescription for TMS, even when treating the very same mental illnesses.
Brain Cell Therapy Sessions
Following the initial assessment and prescription determination, the patient commences the actual brain cell therapy treatment.
TMS Treatment Duration
Each session lasts from approx. 6-20 minutes, depending on the specific need of the patient. Sessions are provided 5 days per week, on average. Most patients will receive 25-30 treatment sessions. If recommended, we can provide multiple treatment sessions per day, depending on several determining factors.
What Happens During TMS Treatment?
Most patients report that the machine feels like a gentle 'tap-tap' on the skull. The majority of patients find the actual treatment to be highly relaxing; indeed, many can experience drowsiness during the treatment session.
However, for maximum TMS effectiveness, the patient needs to be awake and alert – accordingly, we have a large screen TV in the treatment suite. We encourage patients to bring their phone, iPad, laptop, etc. if they'd like to do so, each of which can be used during treatment sessions.
Does Brain Therapy also provide psychotherapy and counseling?
Numerous studies — including our own empirical data across hundreds of patients — indicate that when psychotherapy accompanies TMS, the successful outcome rate is even higher than with TMS alone.
We have a staff of highly capable and experienced clinicians, who provide talk therapy to our TMS clients, who desire this significant added benefit.
To make psychotherapy available to as many clients as possible, we offer a highly discounted '10-Session Psychotherapy Package'.
What About Medication?
It is always our expectation that our patients will be able to significantly reduce, if not entirely stop, their need for medication. We do this in a safe, calculated manner to reduce withdrawal and other symptoms, and we do so in full collaboration with the patient, at her/his determination.
In some instances, our psychiatrists may actually prescribe an additional medication, short-term, in order to maximize the TMS treatment effect. We also utilize 'medical food' supplements, at times, as well.
Progress Audits
We apply rigorous measuring and assessment of our treatment process.
At an interval of approx. 10 sessions, we re-administer the same tests, scales, surveys, and EEG, largely, that we do in the initial, baseline diagnostic session. This enables us to clearly observe and evaluate the progress that each patient is making throughout the treatment protocol.
Rarely, if we are not observing the improvement we expect, given the sample of hundreds upon hundreds of treated patients that we have, we re-map the brain and Revise the Prescription to ensure that the patient achieves the expected outcome.
Start Your TMS Treatment Process Today
Our TMS Center provides the most comprehensive, intelligent, science-based TMS therapy available, today. We are so confident in our process that we guarantee our treatment.
Please contact us for an immediate consultation at no cost or obligation of any kind – we are most willing to provide any information we can about TMS to help you understand how this treatment can enable you or a loved one to heal from the disorder experienced.
At Brain Therapy TMS, we constantly seek and employ the most progressive, evidence-based methods and resources to achieve the greatest degree of healing for our patients.
Call our line to see what we can do for you!
Contact
Phone
Email
Address
1321 Garnet Ave.
San Diego, CA 92109